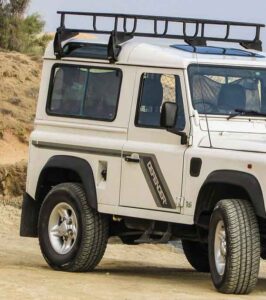 At Complete Iron Works and Welding, we offer a complete line of excellent quality lumber racks at competitive pricing to suit the needs of our truck owners. We will custom design and manufacture any type of rack you are looking for.  We specialize in pick-up racks, van-racks, service body racks, using the properly graded materials. When it comes to lumber racks for your truck, no one beats the service, price, and expertise of Complete Iron Works and Welding. All our lumber racks are built to the highest standard and fully welded. Our racks connect you with your vehicle enabling our customers to tackle any job. We can custom tailor your truck, trailer or whatever you have, to accompany your needs. With some simple measurements, we can fabricate a lumber rack to fit any truck.
A lumber rack sometimes called a ladder rack or bed rack can be installed on the top of your truck bed for extra room and carrying capacity. This extends the length of lumber you can safely transport, by allowing you to take advantage of overhang limits in the front and rear of the vehicle. These racks are made specifically to install rooftop tents on pickup trucks. But they can be used to carry ladders, kayaks, whatever. Cover one with a tarp to create an enclosed area.  Custom lumber racks are extremely rigid with an excellent strength to weight ratio. All of our products can be custom made to fit your specific application. With all the available accessories we have available, you can find exactly what you need. We give you quality, speed, and precision that no other shop can compete with. We do all our work on-site at our facility to ensure you get the best quality for your money. Our lumber racks can be designed as over-the-cab in length (3/4 size), or bumper to bumper (full-length). Each rack is built for the customer's specific cargo type.
We fabricate custom truck racks for your commercial business. Our equipment is crafted from high-quality steel and aluminum to ensure optimum productivity for your business. Complete Iron Works and Welding's custom lumber racks are constructed of the finest materials and craftsmanship. Rack systems are almost as varied as the items that they carry. Racks are available manufactured from both steel and aluminum. To assure customer satisfaction, each product is designed and built as if it were our own! We pride ourselves on our vast resources of product knowledge and experience to help our customers find the best answers to their vehicle needs.
If you have ever wanted to get more out of your truck bed, we can help. We specialize in building custom lumber racks for all types of trucks, vans and trailers. We have the best prices in the area, and no one matches our speed of service and our knowledge of our products. Get your custom-built lumber rack here at Complete Iron Works and Welding. For more information regarding the Action line of ladder racks please call our sales team at 909-875-4542 or fill out our contact form.